"Still Life Jazz" series
This series reimagines the art world standard of the floral still life in the same way that a jazz player reinterprets a musical standard. Each painting uses colors, shapes and organizational patterns found in nature but they are expressed in new and non-nature-like ways. The jagged forms that populate the paintings suggest unexpected improvisational jazz rhythms. Real life and its structure serve as a point of departure while remaining loosely recognizable in the final work.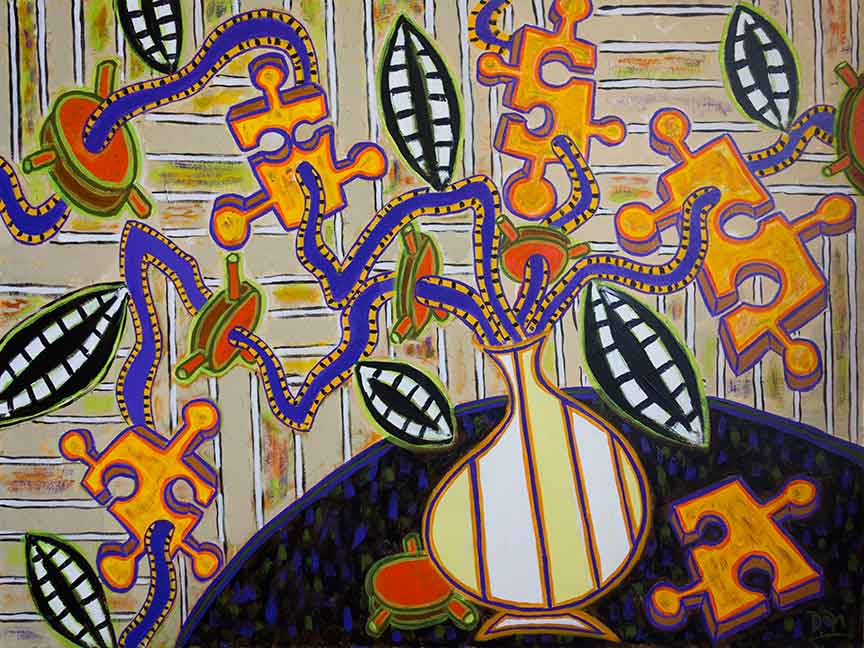 "Unbidden" series
I am interested in how unconscious feelings and impulses routinely interrupt our daily lives, even in the most innocent and banal circumstances, like gazing at a child's toy. These paintings variously suggest active daydreams and unbidden fantasies.
The "Dialog" series
The paintings in the Dialog series depict internal dialogs between conflicting parts of our personalities. They are carefully rendered surrealistic tableaus that kindle any number of psychological interpretations. Potential story lines are reinforced by the accompanying modern, classical, and invented iconography.